UPDATE: Oribi has recently been acquired by LinkedIn.
Google Analytics is a highly beneficial product and probably a tool that everyone is familiar with. Yet, it's not the only one on the market, as in recent years a few innovative low-code/no-code platforms have entered the space. One of them is Oribi, a marketing analytics solution designed specifically for small and medium businesses, who do not have large technical teams at hand.
Oribi is an all-in-one package that gives you everything you need. It empowers you to analyze your website traffic. It also enables you to make informed decisions about how to best optimize your funnel and find meaningful data correlations. What's more important, Oribi is a user-friendly tool and does not require any prior coding knowledge.
…so get ready, because we are about to dive into the ultimate guide to using Oribi Analytics!
What exactly is Oribi Analytics?
Oribi is a powerful marketing analytics tool. Still, it's different from any big data tool you've probably used. The Oribi Analytics platform is a complete, end-to-end solution for website traffic and conversion optimization. With Oribi, companies and marketers can increase conversions and eventually close more sales. For instance, Oribi can help you analyze and optimize your call-to-action, top pages and tell you where you lose visitors along the buying journey.
Oribi enables you to grasp the big picture. A lot of times, marketing analytics solutions bombard you with a sea of endless data. Instead, Oribi tracks every interaction on your site automatically and gives you a summary of meaningful information. This is super important to have in a marketing analytics tool, especially in today's world of data overload.
Getting Started With Oribi Analytics
Now, you'll need to install Oribi on your digital property to get started. This may include the following:
BigCommerce
Google Tag Manager
Instapage
Shopify
Squarespace
Unbounce
Wix
WooCommerce
WordPress
You'll need to add your unique tracking codes to your platforms or websites to get started with Oribi. The process is similar to adding a Google Analytics tracking code or Facebook Pixel to your website. With Oribi, it's easy, only takes a few minutes, and you only need to do it once. If you're not sure how to do it, no worries. Oribi has step-by-step guides for each of the previously mentioned platforms.
Adding a Domain in Oribi
You can get started with adding your domain by navigating to Settings (⚙️) and then Ecosystem. Now, look for "Add a Domain."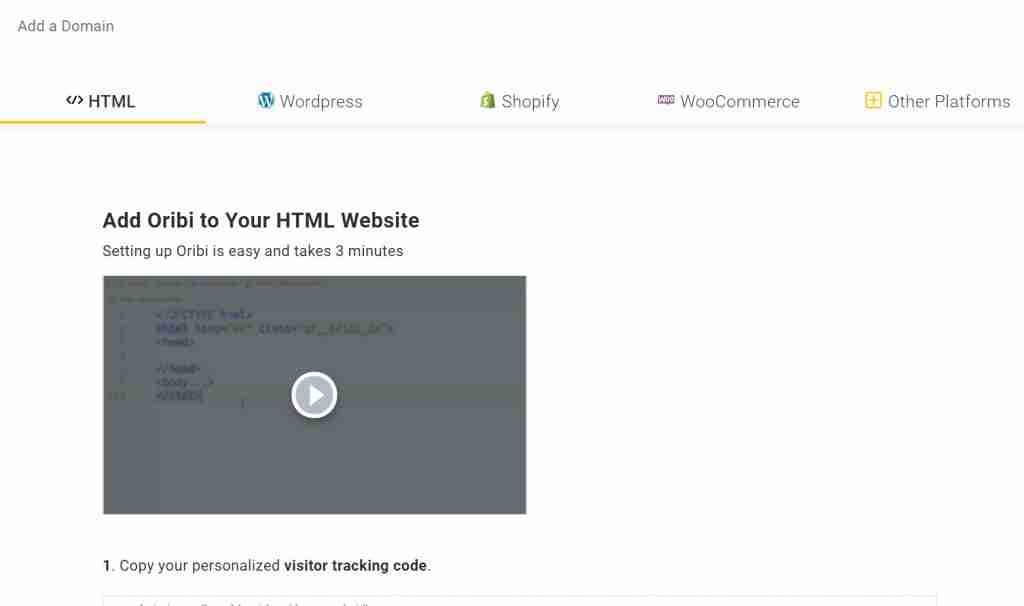 Next, you'll paste your tracking code for the domains that you're adding by following the instructions. Oribi supports all major CMS providers, plus you can also use Google Tag Manager (GTM). Lastly, you can switch between domains by using the drop-down menu located at the top of the screen.
Tracking Your Assets
At some point, you'll want to add more than one domain to Oribi. When you do, you can choose whether to add it to an existing ecosystem or create a new one.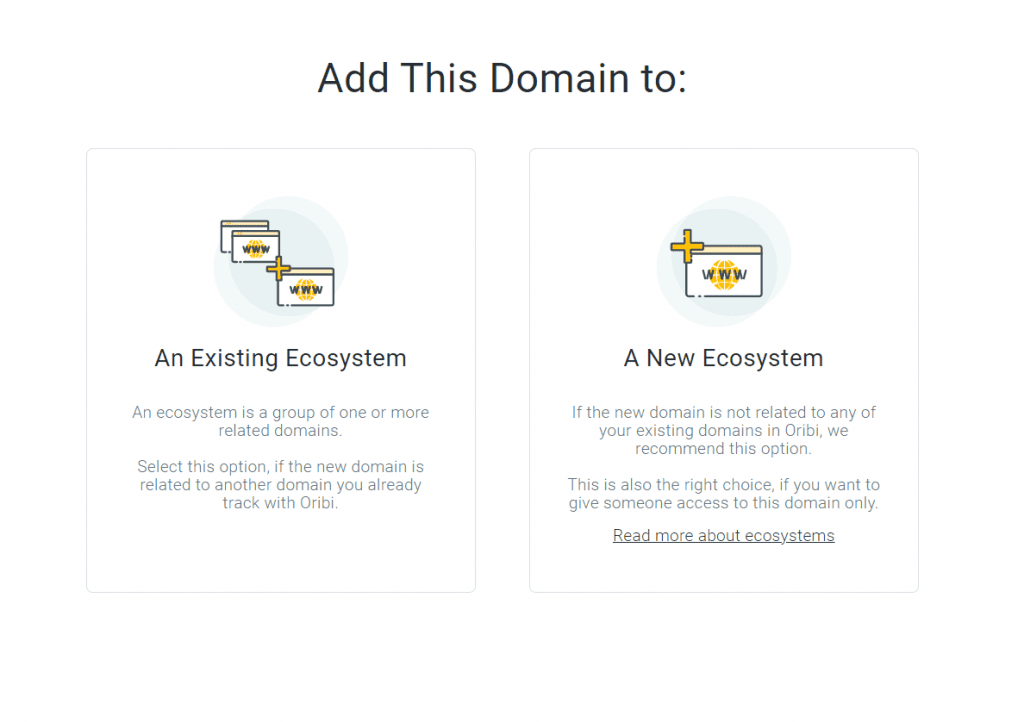 Your domain, for example, is a website that you want to track. Remember, however, that you can also track subdomains with Oribi. Once you move beyond tracking one domain, an ecosystem can help you stay organized. In other words, an ecosystem is one or more related domains in Oribi. If you're managing multiple domains, and Oribi ecosystem can help.
Building an Ecosystem
Now, let's dive deeper into working with multiple domains. Imagine that you run a marketing agency and you manage different clients. You can use the ecosystem to keep your account organized. You can also use ecosystems to manage access levels for clients and teammates.
Here, you'll begin to navigate to settings once again. Now, you'll select "Add Domains." Next, look for ecosystems and choose "Add a Domain." Now, you can select "A new ecosystem."
Oribi will now generate a unique tracking code for your ecosystem. You can now add the new tracking code to any domain that you want to connect with Oribi.
Creating Magic Events in Oribi
Magic Events are the key to unlocking the power of Oribi. They're the building blocks of Oribi Analytics. The moment you connect Oribi to your site, the tool tracks all page visits and button clicks automatically. Oribi's Magic Events technology scans your sites continuously. Using AI, Oribi highlights the key conversions that you should focus on.
You can "Create a Magic Event" by simply clicking the button in the upper right-hand corner.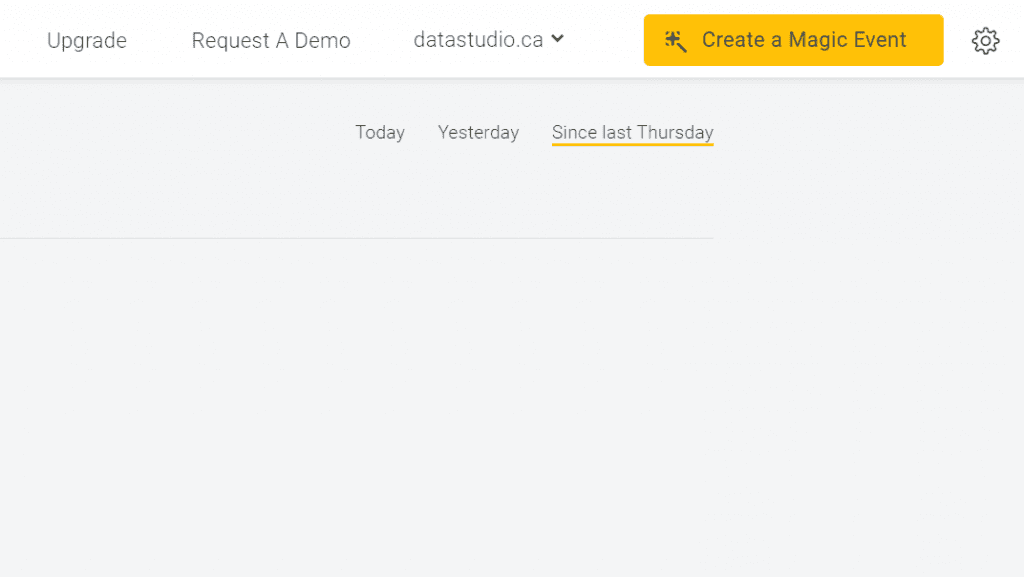 Using the Event Catalog
Your most convenient way to create a Magic Event is by using the Oribi event catalog. You'd click "Choose from Events Catalog" to begin. Now, you can select the appropriate events that Oribi has curated for your site from the catalog. Oribi will recommend events you should focus on based on your site and those of your competitors. For example, if you are a publisher of a tech blog, Oribi would most likely recommend "Blog visits" as a key event. It will also suggest other potentially relevant events. Both kinds of suggestions will appear under the "Key Events" tab.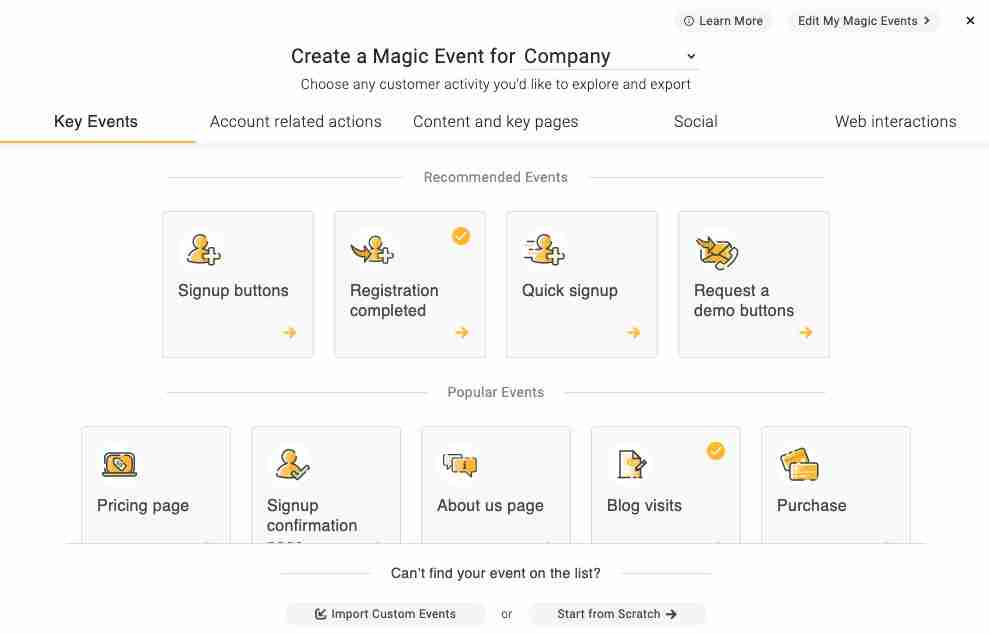 In 99% of the cases, those events would be sufficient for your tracking purposes. However, if you still want to track something more unique and you cannot find it in the catalog, you can use "Custom Events".
Customizing Magic Events
This is where Oribi shines and differentiates itself!
In some cases, you may have trouble finding an event in the catalog. When this happens, you can define your own Magic Event. For instance, you may want to make specific button clicks, or page visits a Magic Event.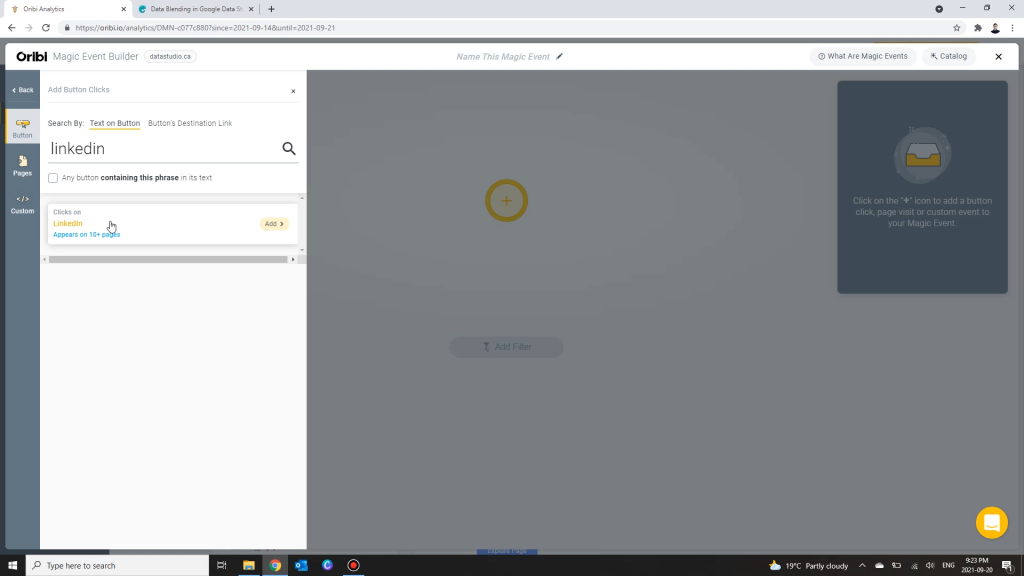 You can create Magic Events using imported Google or Facebook custom events. To do so, you'd click "Import Custom Events" to the bottom of the catalog screen. Now, you can search for your event.
Also, Oribi captures Magic Events for different businesses. You can choose the business category related to your company using the drop-down menu.
You can also filter Magic Events. For instance, you could include or exclude buttons on specific pages. Alternatively, you could filter Magic Event results to show only form submission buttons.
Reaping the Rewards with Oribi Analytics
Now that you've set up your Magic Event, you can track key figures. For instance, you can keep track of the number of unique visitors who click a button. Alternatively, you can understand how many visitors convert relative to your reach.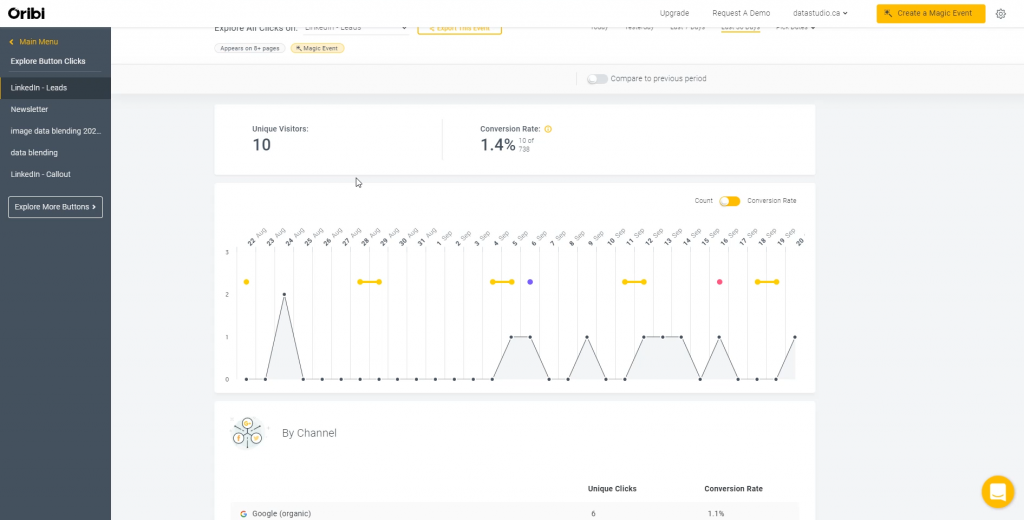 For each Magic Event, you can also see breakdowns by:
Channel
Location
Session
Platform
UTMs (more details in the next section)
Each breakdown will display the number of unique visits. It will also display the number of conversions for each Magic Event selected. More importantly, you have a time series that is annotated in an amazing way. It includes major traffic spikes, holidays, and weekends to help you navigate when looking for insights.
Unleashing the Power of Your Data with UTMs
The key to unlocking the power of Oribi lies in UTMs. A UTM is an Urchin Tracking Module. They're the standard used by many marketing analytics tools. It's a common way in which marketing analytics tools perform data collection. With UTMs, you can find out the source of your visitors.
This simple tool gives you access to precise information about the origin of your visitors. A UTM is a tag that you add to the end of your URL. They don't affect your links at all. Still, they'll enable you to pinpoint the exact origin of your visitors.
Say, for instance, you published an ad, email, or post that links to your website. In that case, you'd add specific parameters to the end of the link leading to your website. The parameters are the tag. The tag enables marketing analytics tools to identify a marketing asset as a source of origin for visitor traffic.
You only need to add your UTM to a link one time. From there, Oribi can provide you with a wealth of data.
How to Build a UTM?
The structure of a UTM may look complicated, but once you understand the concept, it is a piece of cake.
First, you'll need to choose a naming system. You want to choose a consistent way to name your UTMs. This practice will make it easy for you to analyze your information and generate insights. You also want to make a table mapping out your sources and mediums as they relate to your UTMs. Here is a quick example.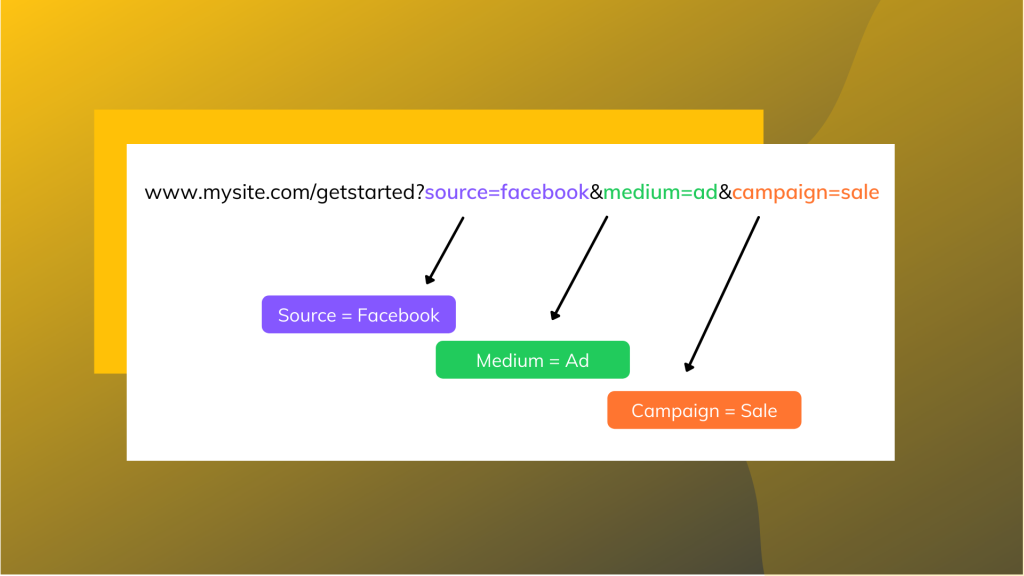 Once you develop a naming system, you can also try Oribi's free UTM builder, which can save you a lot of time. All you need to do is enter your URL, source, and medium. Your UTM will resemble the following:
What About Reports and Insights in Oribi Analytics?
With Oribi, you can build reports with a unique look. You can decide what specific metrics to include, add a summary to each section, and highlight selected KPIs.
Oribi also gives you the option to export your reports to PDF. Alternatively, you can share them directly from your account. You can even generate reports automatically and have them sent where you desire. In addition, Oribi's reports are visually appealing and designed with the viewer in mind!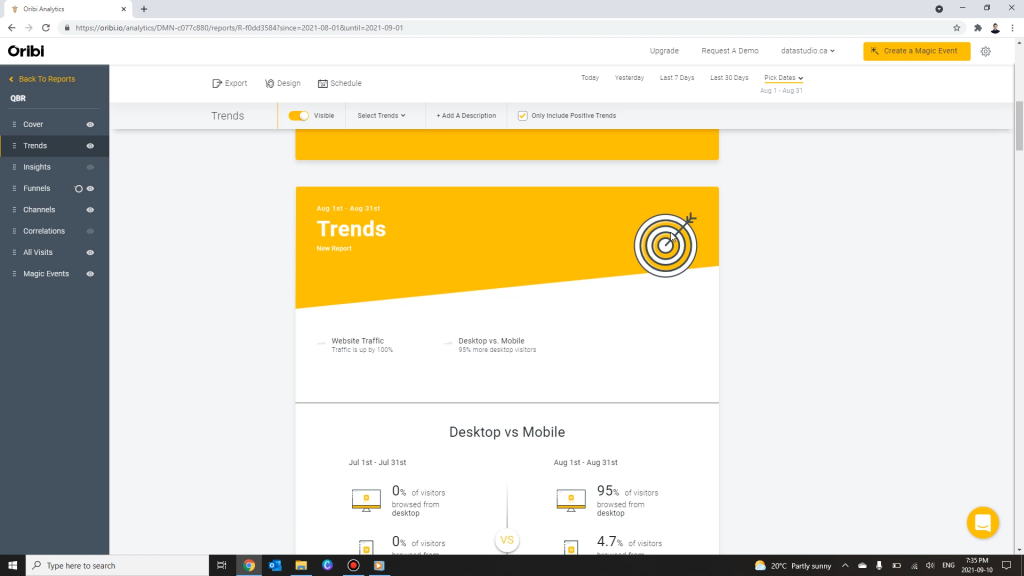 Start Making Your Data Earn Its Keep Today
Hopefully, you've found this guide to using Oribi helpful. Whether you need website or eCommerce analytics, Oribi is a pretty flexible tool and will have you covered! You can take Oribi for a spin by signing up for their 7-Day Free Trial (no credit card required).
Introduction to Modern Marketing Analytics with Oribi
If you want to learn more about Oribi and take your marketing analytics game to the next level, you can enroll in your course! The course includes practical hands-on exercises that will give you a chance to become an Oribi power user!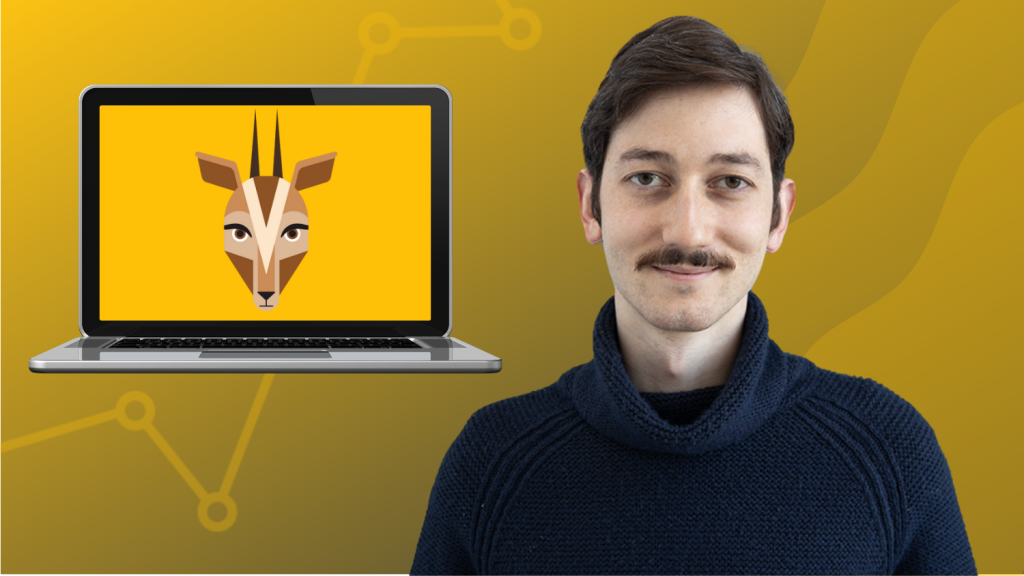 You can enroll in your platform of choice!
---
If you have any questions, feel free to reach out on LinkedIn or subscribe to the datastudio newsletter for more updates. In the meantime, happy learning!