Wondering how to share your Data Studio Reports with clients? You can easily automate the sharing of your PDF reports and dashboards by creating a personalized e-mail schedule in Google Data Studio. For example, sending an e-mail every Thursday or Saturday. This can be especially important for digital agencies and large corporate clients, where the timing related to report delivery is sensitive. Let's see how it works:
How to set up your Google Data Studio e-mail delivery?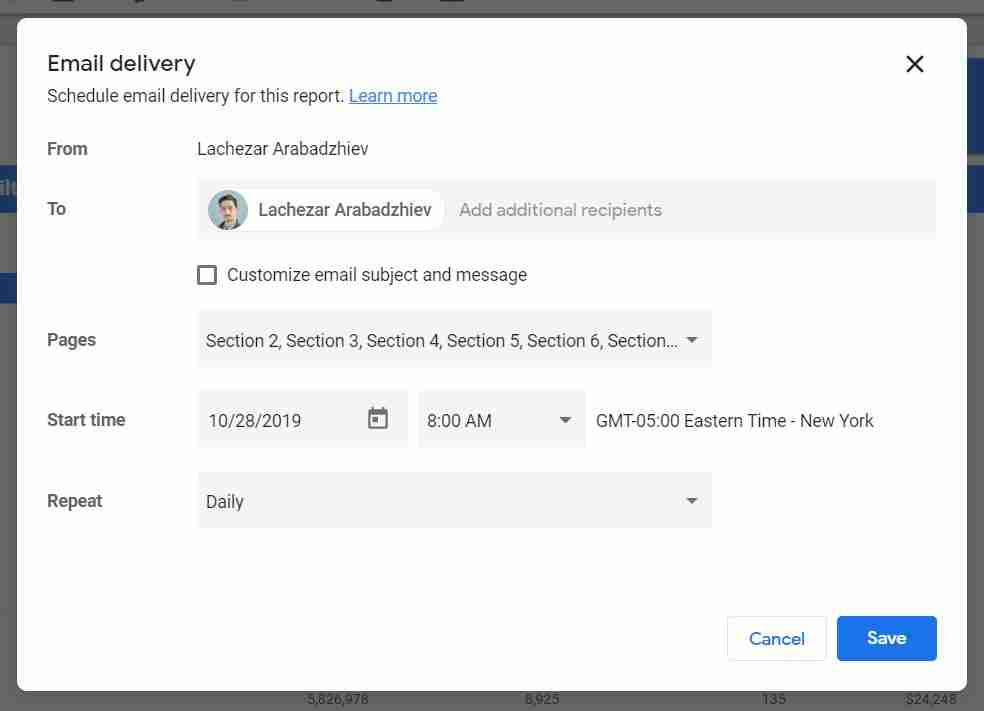 You can navigate to the "Share" button in any Data Studio report and select the "Schedule email delivery" option. In the pop-up, you have the flexibility to tweak the delivery frequency, pages shared and customize the email subject and message.
Customize email subject and message. Once you tick the box, you can easily write a subject line and leave a message that will be shared every time the report is sent.
Pages. You can select which pages you want to share in your email. The menu allows for multi-select.
Repeat. This option controls the cadence and in addition to the presets (eg. Daily, Weekly on Monday and etc.), you can select a "Custom" schedule, which is quite flexible (below). For example, you can select the frequency and specific start days.

What does the Google Data Studio e-mail look like when it arrives in your client's inbox?
When the e-mail arrives in your inbox, you will see an inline image, a preview of your report's first 5 pages. Of course, there will also be an attachment with the PDF version of the report, which can be easily forwarded.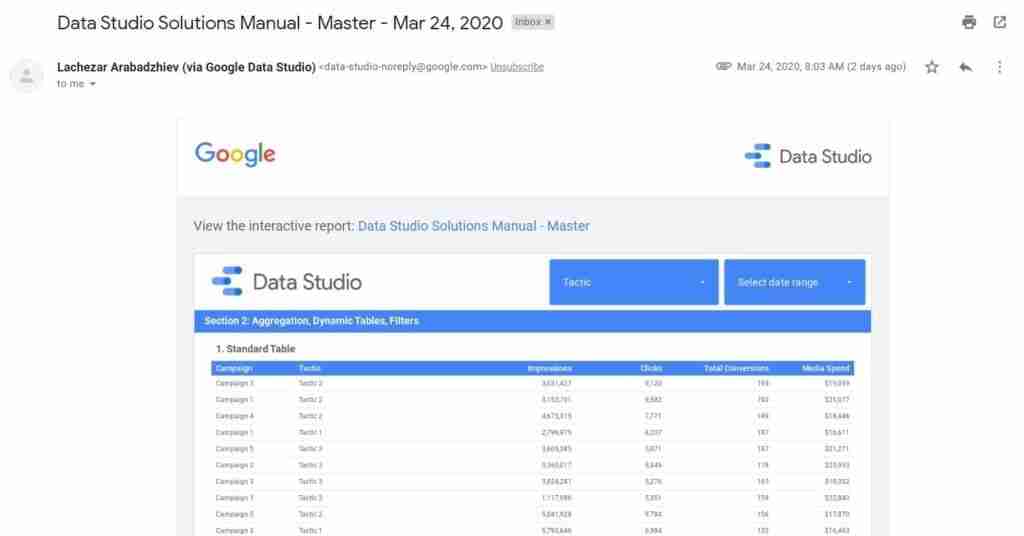 Another benefit is that if your client decides to "reply-to" your scheduled e-mail report, the default recipient is the Data Studio report owner. Therefore, if any questions come up, you will get them immediately.
*In a recent update by Google (April 22, 2021), you would also receive an email if your scheduled email report fails to go out.
*As of 2022, Reports sent as scheduled email or downloaded as PDF now use the report name as the attachment and downloaded file name.
What are the limitations of e-mail delivery?
You can only have one e-mail schedule per report.
You are not able to customize the e-mail address that is sending the scheduled e-mail. All e-mails are coming from Google Data Studio <data-studio-noreply@google.com>. However, as of recently, all scheduled emails show the sender's address "via Google Data Studio."
The owner is always part of the recipient's list. This can prove to be annoying when you schedule more than 3-4 e-mails.
I hope this was helpful! If you have any questions, feel free to DM me on LinkedIn or subscribe to my newsletter for more updates 🙂
---
Dynamic Dashboards and Data Analysis with Google Data Studio
If you want to learn how to build powerful data visualizations and unlock insights that can help you drive business results for your clients or employers, take a look at my full course on Udemy.